TO OUR EU CLIENTS:
Dear Clients, if you are ordering from inside the EU, please order through our Irish site
https://www.franklpharma.ie/
to avoid post-Brexit VAT charges. If you are based in the UK, please order as usual through this site. And please accept our apologies for any delays.
Frances Scott
'In my line of work I use aromatherapy. When I saw what was in Soratinex, I thought "These are excellent ingredients"'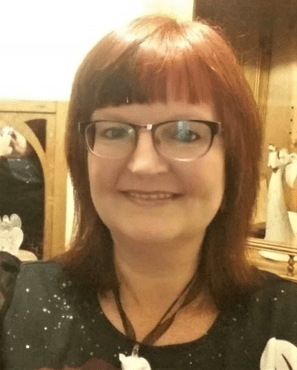 Frances Scott, 51, a complementary therapist from Westhill, Aberdeenshire
It's difficult to say exactly what first triggered my psoriasis when I was 19 but it was maybe a combination of the stress of a family bereavement, starting university, and a related increase in alcohol intake
It was mostly on my forearms and the lower part of my legs so, as the kind of person who covered up anyway, I tried not to let it bother me too much. I never became depressed about it but, it would be fair to say, it did get me down sometimes.
There was the faff of always buying blouses and trousers in the summer that would be light but would cover me up. Although I tried not worry about it, I did feel self-conscious when I went swimming
 I was prescribed coal tar remedies at first but over the years I settled on Dovonex cream, which contains a vitamin D derivative. It never totally cleared up the psoriasis and there were times I would resort to steroid creams when I got bad flare-ups or outbreaks on my face.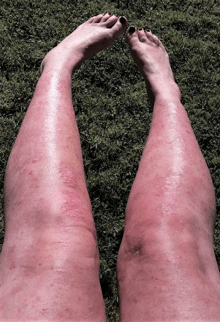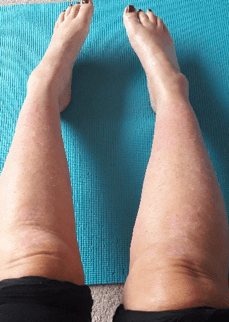 Frances's legs before using Soratinex                      And after using Soratinex
When I was pregnant with my son, I didn't use anything and things deteriorated quite badly. After he was born, I had to have light therapy before going back to Dovonex. Nothing really cleared up my psoriasis and I had already accepted that this was it for the rest of my life, this was me, and that was that.
Then I read about Soratinex on a Facebook forum and did a little bit more research. At first I thought it was expensive, but I am a trained aromatherapist and when I read what was in it I thought, 'These are excellent ingredients. It sounds like my kind of thing.' Considering the oils that are in it, I understand the cost.
Within a week my skin began to feel better. After two weeks it began to look better too, and week by week it continued to clear up. I couldn't believe it. That was in August [2019] and now it's Christmas [2019] and I'd say I'm about 90 per cent clear. I still have some small stubborn patches on my knee and elbow, but I'm working on them and hope to have them clear soon too.
By the end of the summer I was wearing T-shirts and shorts. It might sound like a small thing for someone who doesn't suffer from psoriasis, but there was one day when I had to pop over to my neighbour's house. I'd been in the garden in my shorts and usually I would change into something that covered my legs – but I realised I didn't have to.
It doesn't sound like much, but it meant the world to me.