TO OUR EU CLIENTS:
Dear Clients, if you are ordering from inside the EU, please order through our Irish site
https://www.franklpharma.ie/
to avoid post-Brexit VAT charges. If you are based in the UK, please order as usual through this site. And please accept our apologies for any delays.
John O'Shaughnessy
'We spent so much money on every treatment out there but nothing worked until we found Soratinex.'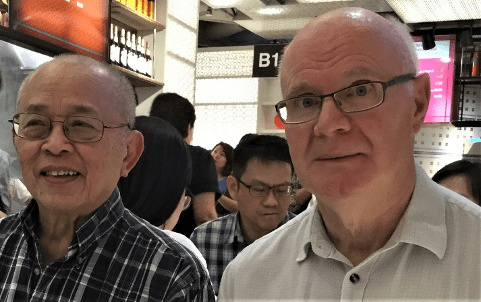 John O'Shaughnessy, right, a 69 year-old retired nurse lecturer from Duston, Northants, with his partner, the chef and author Terry Tan, 77.
This is Terry speaking on behalf of John; he suffers from Parkinson's disease and as I'm his partner and registered carer, he's asked me to tell you about his experiences with Soratinex.
John has had psoriasis for more than thirty years and I've known him for 26 of those. He had severe plaques on his knees, elbows, behind his ears and on his scalp. These areas were very encrusted, itchy and uncomfortable, and, of course, there was a degree of social embarrassment that went with them.
During the time I've known John, he has been prescribed all the usual corticosteroid creams but none of them has ever - ever - worked. We've spent so much on every kind of lotion and potion and treatment on the market, all sorts of mumbo-jumbo medicines, and even Chinese herbal 'cures'. Of course, nothing worked.
Eight years ago, John was diagnosed with Parkinson's disease and that aggravated his psoriasis, perhaps from the stress. I didn't like to see the discomfort he was in. It was awful.
I would constantly be on the lookout on the internet for the latest thing, and one day I came across a forum in which people were saying good things about Soratinex, so we decided to give it a try.
I wasn't very hopeful at first because we had been disappointed by so many other things, but I helped John apply the gel, oil and cream and we were astonished. Within weeks his skin began to clear up, and it kept on improving until now I would say 95 per cent of his psoriasis has gone.
I have recommended this treatment to so many people and I plan to keep recommending it whenever I meet anyone with psoriasis. To find a treatment that actually works - and after all these years - is simply fantastic.
If you suffer from plaque psoriasis, I wouldn't have any hesitation in asking you to try Soratinex. It really worked for John.