TO OUR EU CLIENTS:
Dear Clients, if you are ordering from inside the EU, please order through our Irish site
https://www.franklpharma.ie/
to avoid post-Brexit VAT charges. If you are based in the UK, please order as usual through this site. And please accept our apologies for any delays.
Mel Jones
'After 40 years I'm almost completely clear. Using Soratinex has been life-changing'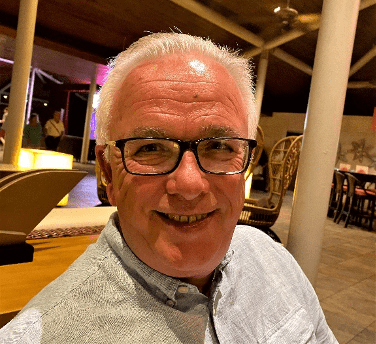 Mel Jones, 62, a company director from Cannock, Staffordshire
I think my psoriasis has always been stress-related – whenever there was any kind of personal trauma in my life I would have a new outbreak four weeks later. It was like clockwork.
It started when I was 16 after an operation on my jaw following a football injury. At first, it was on my legs and elbows but over the 40-odd years I've had it, it spread to my back and buttocks. Obviously, you can't avoid sitting down and so this caused me a lot of pain and discomfort. There were times when I'd have to go home and change because of bleeding from the plaques.
Over the years I've been given all the usual steroid creams but they never cleared up my psoriasis. At best I'd say they kept them in check.
I played a lot of sport and sometimes found it difficult taking a shower afterwards. I'd always have to after playing rugby and sometimes people would ask what was wrong and I'd explain – and mostly they would be understanding. But when I played cricket and could avoid having a shower, I would.
I never got depressed over my psoriasis, but managing it could be difficult. When people say you are a psoriasis 'sufferer' that seems like a strong word, but you do suffer. It can be itchy and painful and it can affect your confidence. I'd reached a point in life where I'd accepted that I would always suffer from the symptoms.
Then one day [in August 2018] I was playing golf when one of the other players came up to me. It was a hot day and I was wearing shorts and he asked whether I had psoriasis. He said he had had it too and had been covered in plaques. 'I'd never have been able to wear shorts,' he said. And he told me he had been cleared up by Soratinex.
So, I bought some and began using it every day with the help of my wife who applied the gel, cream and oil to my back for me.
Within four weeks my psoriasis reduced dramatically. Instead of an angry red it went to pale pink. My elbows used to be very itchy and would crack so badly that I would bandage them to stop them bleeding on my clothes. After using Soratinex, they cleared up almost completely. I had to go out and buy short-sleeved shirts last summer because I'd never bought any before.
My back and buttocks have cleared up completely and one thing I have noticed is that where the psoriasis has cleared up, it hasn't come back. In the past if anything cleared up an area for a while, it always came back but this has remained clear for more than a year.
At first, I thought Soratinex was expensive but if you'd told me I could get almost completely clear of my symptoms for £120 I would have been happy with that. Now, for maintenance, I buy a set about every six months, so that is actually very economical.
I am so much happier and so much more confident now. This treatment has been fantastic for me and I wouldn't hesitate to recommend it to anyone with plaque psoriasis. It can be life-changing.