What patients say
 THE PATIENT EXPERIENCE OF SORATINEX
Greg Pittard, 47, Commercial Director of Icebox (ice sculpture company) from NW London. 
'I have had psoriasis for 18 years on my arms, chest, back and, recently, my knees. In all, it probably covers about 25 per cent of my body when it flares up. I find it frustrating and upsetting. I'm quite a confident chap and I learned long ago about the importance of inner strength and self-belief so I am not overly-dominated by my condition or what other people think of it.
'However, I used to love swimming but I stopped about two years ago when I became self-conscious of people looking at me. It was a beautiful summer's day at Kingston Lido and I was suddenly aware that I was rushing to get into the water and below the surface, and then when I got out I was rushing to cover myself up with my towel. I stopped going after that.
'I have used steroid-based creams prescribed by my doctor, I've spent an awful lot of time trying to find out what causes it and I've spent a lot of money being seen privately, but everyone I saw seemed to say the same thing: "We don't really know what causes it. Here, put some cream on."
'I heard about the Soratinex trial from a friend went along and when I was told it involved another cream – as well as an oil and gel – I thought, "Oh, here we go again". But I used the treatment twice a day as instructed and within days I was seeing an improvement.
'It is quite a powerful thing to watch something quickly clear up that you pretty much felt was irreversible. The cream is wonderful and it smells great; so is the oil – you almost feel you could eat it! Within a couple of days my red patches were starting to clear up and then I began to see other patches below them, which were areas of normal skin.
'Then it became less inflamed – that is something psoriasis sufferers will find very important – and my skin calmed right down. It is continuing to improve and I'm seeing clear, good skin. There is about a 70 per cent improvement and obviously I'm hoping it goes to 100 per cent.
'I'm feeling so much happier and confident about myself. The other day I walked down the street in shorts and a T-shirt and nobody looked at my arms or legs, which they normally would.
' I'm single and, of course, psoriasis can affect your confidence – you constantly worry what the reaction will be in intimate situations. But now I'm thinking that, yes, I will be able to look forward to that again. It's a real morale-booster.
'I was the last person to be accepted on the trials and I was sceptical when I walked through the door. Now I just can't believe how lucky I was.'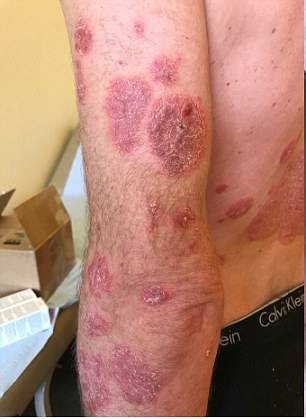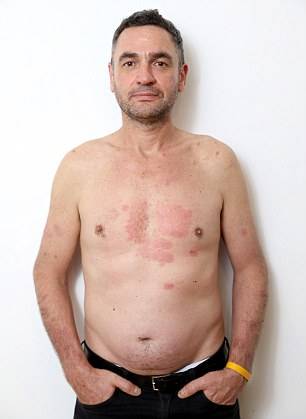 Sue Pickering, 61, from Northumberland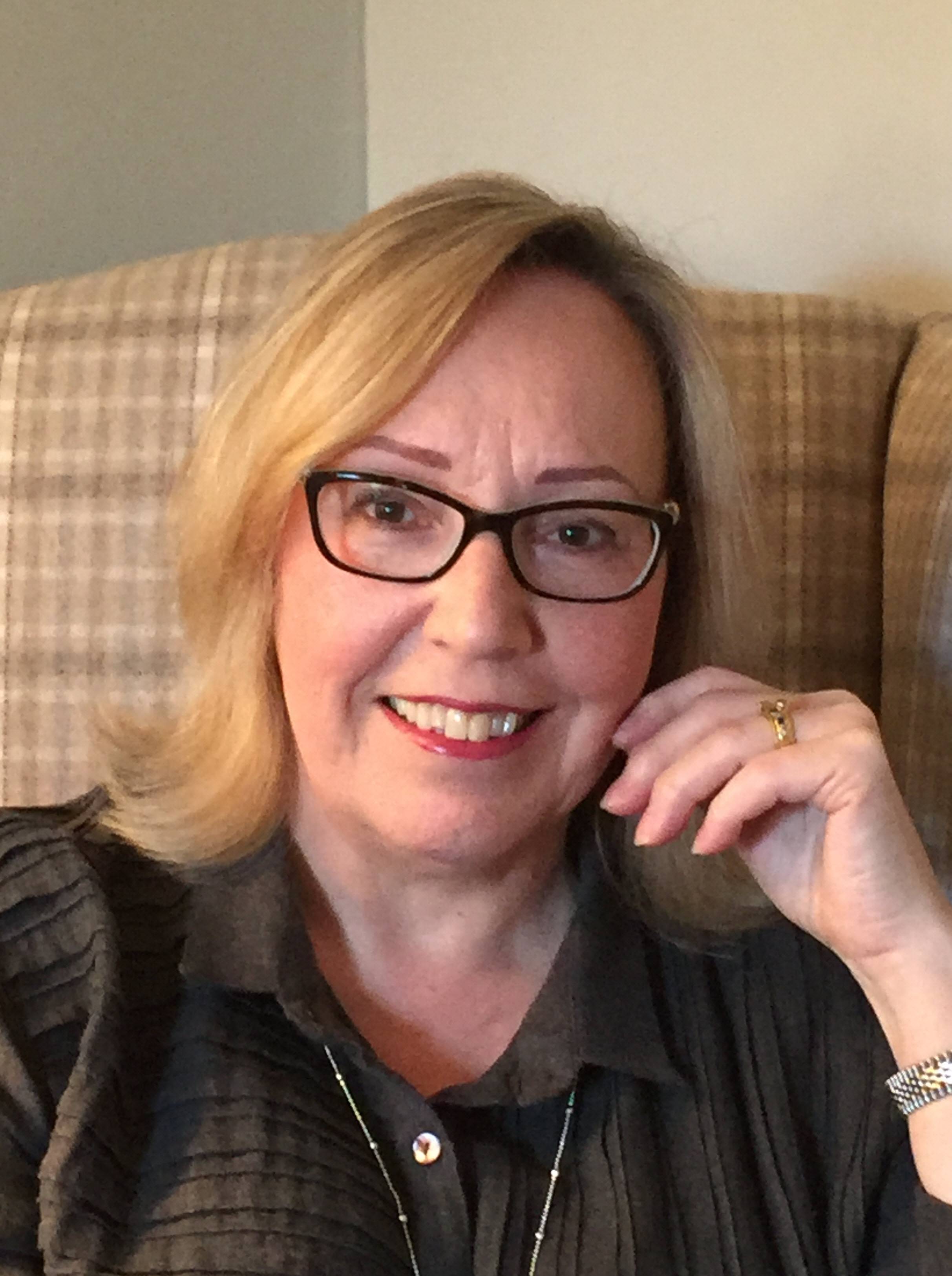 I first developed psoriasis at the front of my scalp in my early fifties but it took two years before I was formally diagnosed. I understand that this isn't unusual.
There were added complications for me because it was linked to another condition called frontal fibrosing alopecia, which meant the worst effects were around my hairline, and this caused it to recede. I also had a 10p coin sized plaque on the back of my hand and while my scalp would periodically improve or deteriorate, that hand plaque was stubborn and just never went away.
I used to be in advertising, recruitment and training and so had to attend meetings and deal with clients. In situations like that I would sometimes feel self-conscious about my appearance and worry whether any flakes were there from my scalp. Eventually, I hanged my hairstyle to cover up the psoriasis at my hairline. Other sufferers will recognise this – psoriasis can have a detrimental effect on your confidence.
After trying all sorts of topical steroids, I was put on Methotraxate about five years ago. I was on that for about two and a half years, then had a gap, and then was put on it again for about 18 months.
Methotraxate is a form of chemotherapy medication although it is given in low doses for psoriasis and is an auto-immune suppressant. It dampened down my psoriasis but it can also leave you vulnerable to illness because it plays with your immune system. Last year, I caught virus after virus and felt so ill that I decided to come off the treatment – and my psoriasis came back in force.
Then I read an article in The Times' health pages about Soratinex and thought I'd give it a go. The results have been absolutely amazing. It is an eight-week treatment but I saw results within a few days – now even the psoriasis on the back of my hand has gone.
I would say my psoriasis has cleared up almost completely now and because I am no longer on Methotraxate I feel so much healthier. I am relieved, too, that I'm no longer using steroid creams as they were making my skin thinner and thinner.
My husband has noticed a difference in me, too - that I'm feeling happier and healthier. I am determined to tell everyone I can about this treatment in the hope that it will work as well for them as it has for me – and recently I have been able tochange my hairstyle to suit me rather than the psoriasis!
John Cowie, 52, from Essex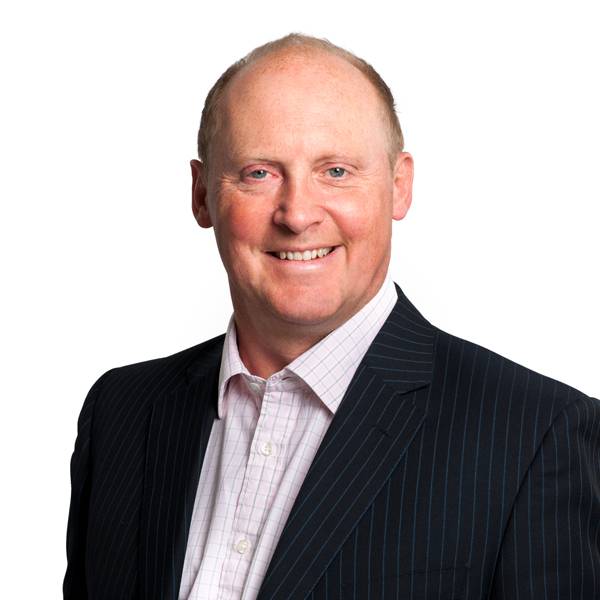 My psoriasis arrived from nowhere – there was no family history of the condition and no reason why it should turn up, but it just appeared. That was about 20 years ago and it has persistently affected my knees, elbows and trunk.
Over the years I've tried everthing to clear it up – Dovabet, Dovonex, salicylic acid, coal tar, UVB treatment, homeopathic remedies  – but nothing worked.
I never had much of an issue with my scalp, but then it appeared there and I had to use coal tar shampoo. Dithrocream helped for a while, but that stained the bedsheets. Permanently.
I hated all the sideways glances from people if you went into the swimming pool. If I got into a jacuzzi you could just see people thinking 'Bits are falling off that guy!' You try not to let it affect your life, but you can't help it. I sail a dinghy and spend half of my life on my knees and it hurts like hell – the psoriasis plaques split and by the time I've finished, there is quite often blood in the bottom of the boat.
Then I read about Soratinex in the health pages of The Times and thought 'Nothing ventured, nothing gained'. At first I got a slight burning sensation because I might have put on too much gel, so I left it for a couple of days but I saw an improvement anyway.
Then I applied the gel, cream and oil carefully and within days I began to see a real improvement. I began to notice the plaques shrinking and the clear skin below appearing. I had a big patch on my trunk and right hip – about 15cm by 6cm – and very soon all that was left of it was a slight ring at the edges.
My elbows and knees have cleared up and I would say I am now 90 per cent clear and getting clearer. It Is an absolutely brilliant result for me. This stuff is amazing.
Spring and summer are on their way and I can't wait to get back in my dinghy on my new knees, knowing I won't have to put up with all that pain. I can't recommend this treatment highly enough.
Eileen McNeill, 63, a retired teacher from Enniskillen, Northern Ireland. Married with two grown up children.
'I had mild psoriasis on the scalp since my teenage years.  It was scaly and very itchy and my then doctor prescribed the steroid cream Betnovate. It went away but then came back when I was at university and carried on for most of my life on my scalp and behind my ears.
'Then about 10 years ago it increased in severity and spread to my elbows, arms, lower legs, a couple of patches on my face and quite a lot on my elbows. I didn't let myself become depressed over it, but it was frustrating cosmetically – I would often wear dark tights instead of skin-coloured and I was always looking for long-sleeved dresses to cover my elbows.
'I tried everything the doctor gave me as well as everything I could find on the market, but nothing worked. I went privately to see a dermatologist but the course of treatment he prescribed was also ineffective. One doctor told me I'd have it for life, and even though you know the doctor is probably right, it isn't the sort of thing you want to hear.
'I was always Googling psoriasis to see if I could find any new treatments and one night in one of the forums of the Psoriasis Association, where people share information about treatments, I saw that one man had left a very short post simply saying Soratinex was brilliant.
'At first, I was put off by the cost – it was approximately £90 – but I was very drawn to the fact that it did not contain steroids, which is a big plus, and so my husband told me to give it a go. It is in three parts, the gel, cream and oil and you have to have time and patience to carefully follow an eight-week regimen, applying all three twice a day. I did, and within just two weeks I was seeing an obvious improvement.
'By six weeks it was almost gone and I was thinking about stopping, but FRANKL Pharma customer services had been giving me great advice and support and said I must finish the eight-week course. They were very helpful.
'I finished the course and it cleared up completely. Even blue-ish marks on my arms from using steroid creams eventually disappeared.  I was absolutely delighted  and still am – it really is fantastic stuff. I have been clear now for about a year and just use a little bit of the oil on my face and elbows.
'I tell everyone I can about Soratinex because I'd like them to enjoy the success I've had with it.'
Emma Bird, 57, from Hampshire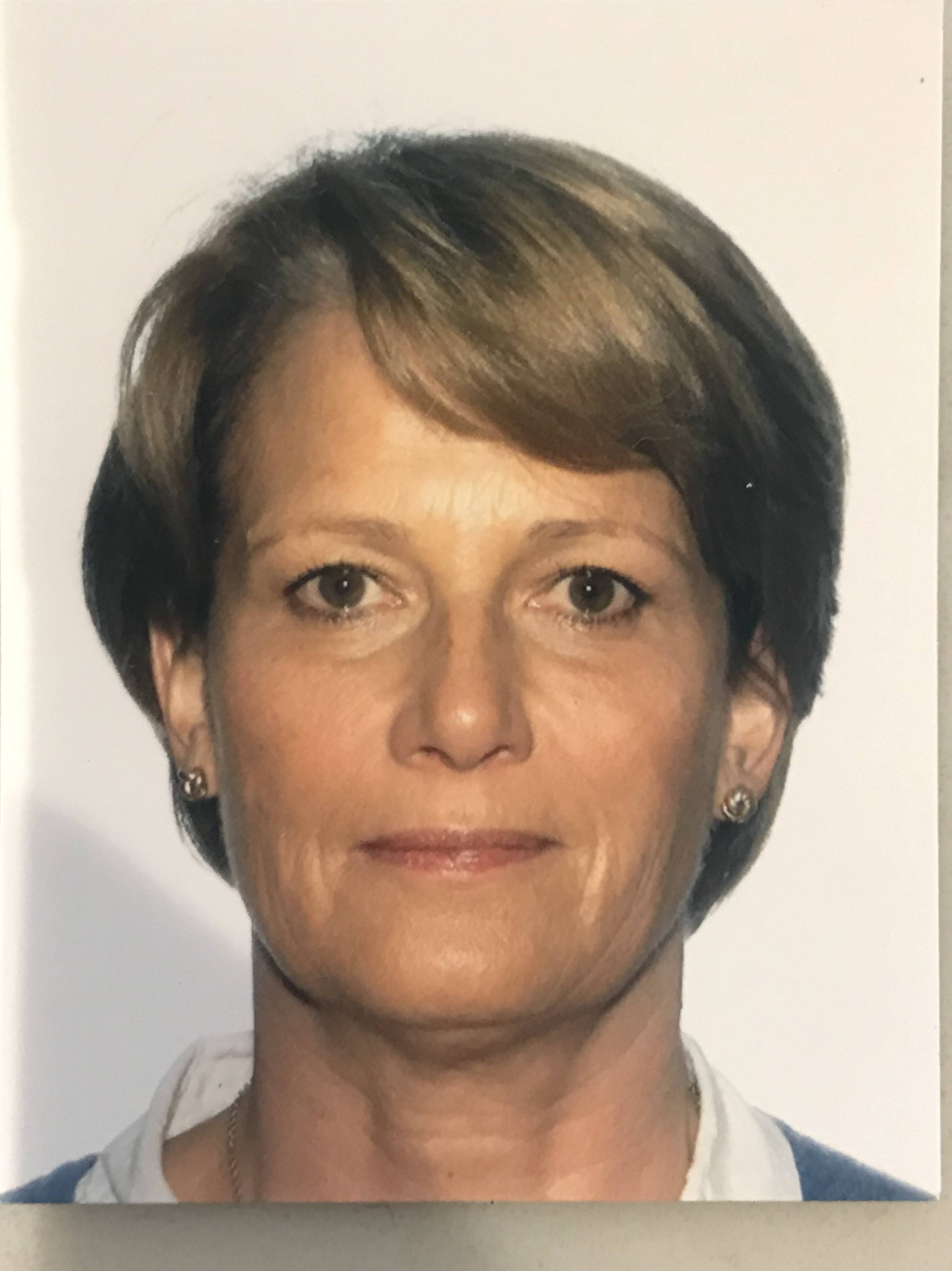 I have had psoriasis for more than 20 years, from my mid-30s, and during that time I have had experience of different kinds and different levels of discomfort, often brought on by stress. I have had it all over my body, on my scalp and in my hair. It has been very unpleasant and upsetting.
I have tried not to let it restrict me and the way I live my life, but you can't help feeling conscious of it if you go to the spa or pool or on holidays, places where your clothes come off.
Over the years I have been treated with everything, from light therapy to steroids, which have worried me because I have seen my skin become thinner and thinner. I feel lucky that my skin has never ruptured, but it does look older than it should because of all the steroid use.
I have been concerned for some time over the long-term side-effects of steroids but in my experience doctors don't understand how ghastly psoriasis can be and they tend to just give you steroids over and over again.
Then I was told about Soratinex and thought I'd give it a go – at least it didn't have any steroids in it. The results have been incredible. After just three weeks I saw the most amazing change you could possibly imagine.
I had it on my scalp and that has completely cleared up. That is important for me because when it is there, you tend to shed all this scaly stuff, but now that's gone and I'm almost completely clear everywhere else.
I simply could not believe something with so many natural ingredients could have such a positive effect. It has changed my life.
Marie Norris, 52, a child minder from Northolt, west London.
'I first got symptoms of psoriasis about five years ago. I only had a small patch on my leg at the start. But then three years ago – December 27 2014 – my daughter, Faye, was killed in a car crash. She was just 34.
'They say stress can bring psoriasis on, and in my case it did.  It spread all way down both my legs below the knee and went to my elbows and the patches grew bigger and bigger. It was red raw and very sore.
'I stopped wearing skirts or anything short. I even covered up on holiday because you could see people looking and it was very embarrassing. My GP prescribed corticosteroid creams but they didn't work and so I was eventually referred to a dermatology specialist who prescribed something even stronger.
'Eventually, I ended up on the Soratinex trial and I'm delighted with the way things are going. As soon as I started using it I felt better. I'd say it's about 50 per cent better and it's improving all the time. The patches are still there, but they're much less inflamed and they feel so much better.
'I feel much more confident and if the weather was warm enough, I think I'd be able to wear something short again. I'm going to carry on with the treatment and I've been recommending it to lots of other psoriasis sufferers. I think it's fantastic.'
Sritharan Ratnaswamy, aged 61, an accountant from West London. Married with two grown-up daughters 
'I first had psoriasis about four or five years ago. It is all over my body to a greater or lesser extent – the severity of it seems to come and go and obviously when it is all over I feel pretty miserable.
'I've been prescribed oral and topical medication and feel like I'd tried everything from methotrexate tablets to Epaderm cream and Balneum bath oil to topical steroids including Dovobet and Dovonet, but nothing seemed to have worked. I also had puva treatment – ultraviolet light therapy – a few years ago.
'When I was given the Soratinex oil, gel and cream as part of the trial, I'd already thought nothing would work, but this did. I put it on twice a day and soon began to see a difference. Now it has gone and I'm hoping it stays that way.
'Because it was on my arms and legs, I'd been covering up all the time and wearing a tracksuit outside but now I've been able to start wearing shorts and short sleeves again, and I feel so much happier.
 'It might not work for everyone, but it has worked for me and I would recommend other sufferers to give it a try.'